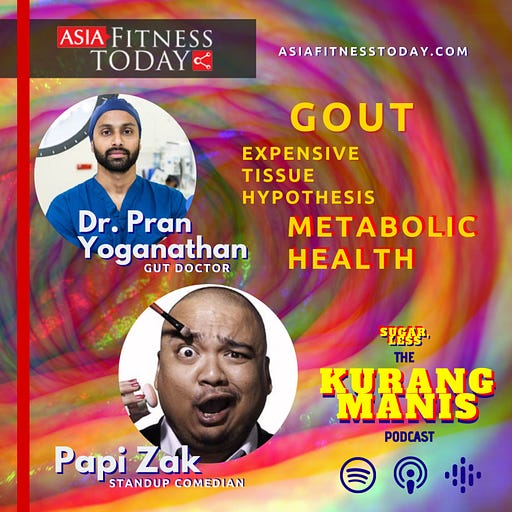 Mar 4, 2021 • 9M
S1E4 Trailer - Papi Zak & Dr. Pran Yoganathan on Gout, Expensive Tissue Hypothesis & Metabolic Health
Appears in this episode
Asia Fitness Today.com presents AFT Podcasts; a compilation of three podcasts that features interviews with athletes, medical doctors, allied health, fitness & wellness professionals, entrepreneurs, book authors, culinary experts and many more modern heroes from the Asia Pacific region. Co-hosts Nikki Yeo & Jasmine Low chat over a cuppa tea. In Malaysia, it's the Teh Tarik, made frothy by swift hand movements of a tea-pulling expert but 8tsp of condensed milk in one cup?! Kurang manis, boss! Less sugar please... Read full interviews on the website: https://www.asiafitnesstoday.com/category/aft-podcast/ Listen, Subscribe & Rate AFT Podcasts via our Apple Podcast Channel: https://podcasts.apple.com/au/channel/aft-podcasts-apac-heroes/id6442749688
Curious questions from Malaysia's "biggest" standup comedian and debut wrestler, Papi Zak (www.thepapizak.com), to Australia's gastroenterologist and Instagram educator Dr. Pran Yoganathan (IG @dr_pran_yoganathan) who spoke with us on Episode 3. Dr. Pran elaborates on the expensive tissue hypothesis (ETH) which relates brain and gut size in evolution (specifically in human evolution). Join co-hosts Jasmine Low & Nikki Yeo as we learn bite-sized and informative science-backed data on gout, uric acid on a high protein diet, our gut and metabolic health.  Continue listening to the full episode, Ep. 4 with Papi Zak next. Like this?
Subscribe to The Kurang Manis Podcast for future updates. 
Website: https://www.asiafitnesstoday.com/?p=9039.