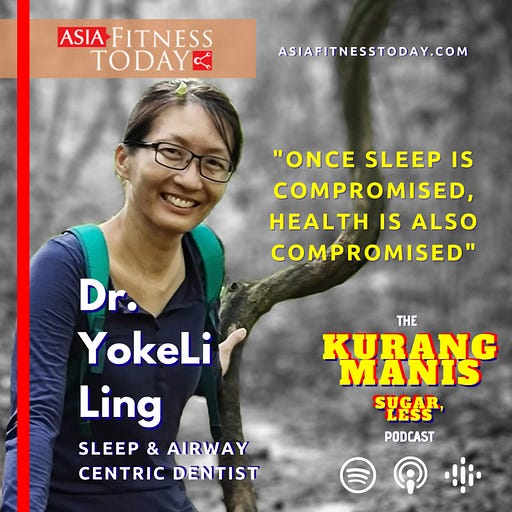 May 3, 2021 • 36M
S1E8 Dr. YokeLi Ling on Sleep and Airway Centric Dentistry
Asia Fitness Today.com presents AFT Podcasts; a compilation of three podcasts that features interviews with athletes, medical doctors, allied health, fitness & wellness professionals, entrepreneurs, book authors, culinary experts and many more modern heroes from the Asia Pacific region. Co-hosts Nikki Yeo & Jasmine Low chat over a cuppa tea. In Malaysia, it's the Teh Tarik, made frothy by swift hand movements of a tea-pulling expert but 8tsp of condensed milk in one cup?! Kurang manis, boss! Less sugar please... Read full interviews on the website: https://www.asiafitnesstoday.com/category/aft-podcast/ Listen, Subscribe & Rate AFT Podcasts via our Apple Podcast Channel: https://podcasts.apple.com/au/channel/aft-podcasts-apac-heroes/id6442749688
Meet Kuala Lumpur based Dr. YokeLi Ling, a passionate Sleep and Airway Centric Dentist who advocates prevention and rehabilitation of poor facial and jaw growth and development that results in dental misalignment, sleep disordered breathing, and compromised systemic health that could even lead to chronic diseases like hypertension and Type 2 Diabetes. She advocates for oral myofunctional therapy, incorporating it into the treatment of orofacial myofunctional disorders, and dental sleep medicine for both children and adults. An inspiring episode that urges immediate action if you, your spouse or your child are mouth breathers.
"I would like to introduce a broader concept of the dentist as an oral physician, a gatekeeper to the wellness of systemic health through the mouth" - Dr. YL Ling
Join co-hosts Nikki Yeo and Jasmine Low in this chat to uncover the secrets to well-being.
Dr. Ling has also kindly shared two lectures in the BONUS track (listen in the next track): 
Sleep Disordered Breathing (SDB) and Obstructive Sleep Apnea (OSA)

Chronic Mouth Breathing caused by Stuffy Nose due to Allergies
------------------ Links ---------------------
Article: https://www.asiafitnesstoday.com/?p=9950
Click to visit The Kurang Manis Podcast website: https://www.asiafitnesstoday.com/kurang-manis/
Now available across all platforms wherever you get your podcasts.
--- Send in a voice message: https://anchor.fm/kurang-manis/message